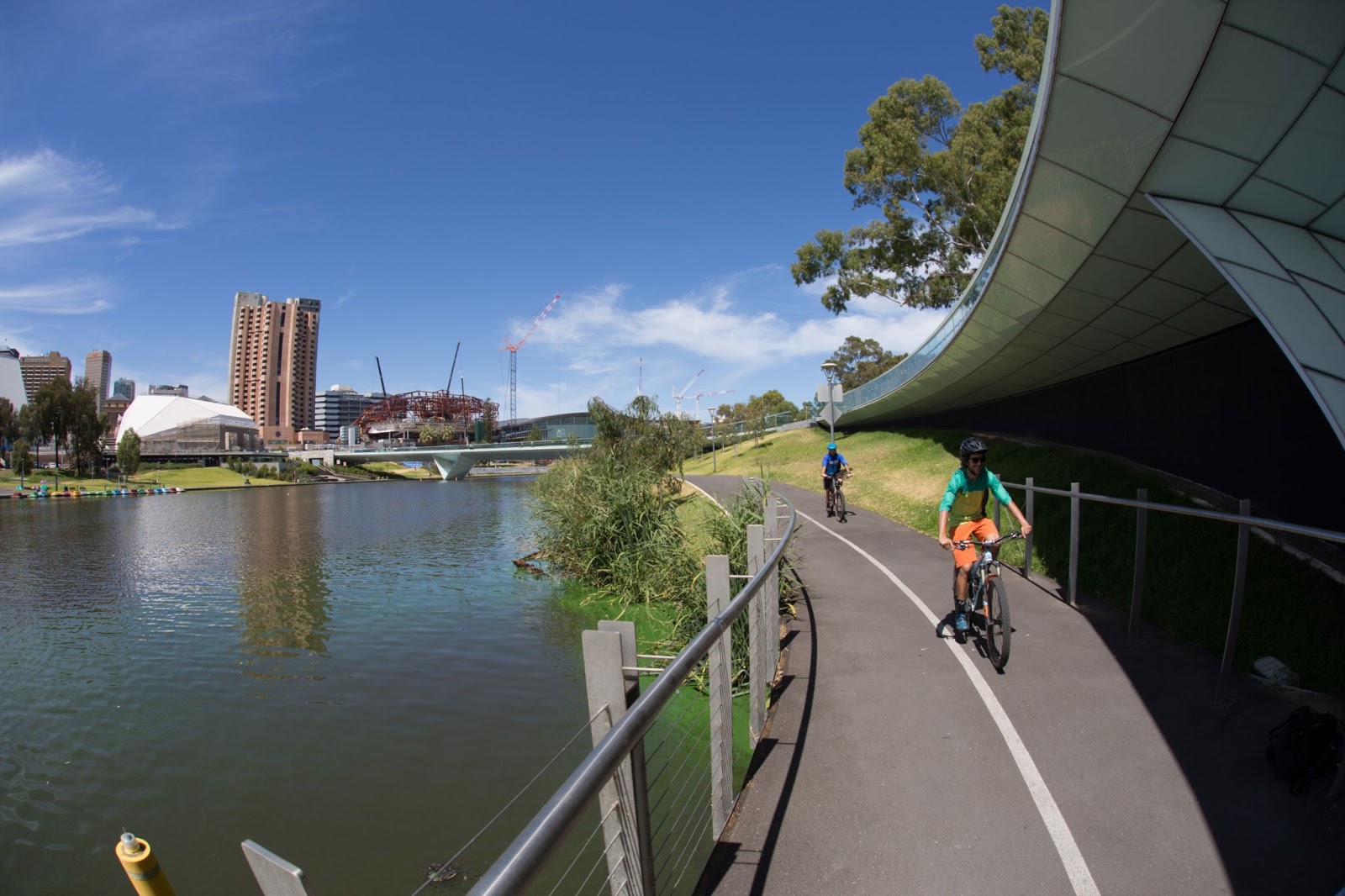 OK, it's fair to say we are pretty biased, but we love Adelaide, that's why we live here! It's also why we are so passionate to show you the best things about our beautiful South Australian capital on our tours! We should also say right at the beginning that we have no intention of trashing other Aussie cities — we just want to do Adelaide justice and sing its praises. If anything in this blog inspires you to check out Adelaide, please take a look at some of our excellent Adelaide bike tours, such as our Mount Lofty MTB Trip.
Adelaide Regularly Makes it onto Lists of the Best Cities in the World
While Australia has some exceptional cities — most of which should be on people's bucket lists — Adelaide regularly makes it onto various lists of the best cities to visit in the world, beating out the other big Aussie cities. So, while Australians might expect Sydney or Melbourne to be the most popular, that's just not what visitors seem to think. Perhaps the highest-profile platform to declare Adelaide the 'best city in Australia' was the Lonely Planet back in 2014 as Adelaide made it to ninth place in its list of cities to visit across the world. It was the only city in Australia to make the cut! And one of the best things about Adelaide is it's size. With a population of 1.2M it's just big enough to have everything you need, but it's small enough to feel like a large town. Plus you can get out of the city so quickly, with the hills and our perfect beaches just 15mins from the city centre. 
Adelaide's Foodie Scene
Adelaide arguably has the best coffee scene in Australia, with great quality coffee made to an exceptionally high standard. We also have some of the best brunch options you'll ever come across. For some reason, we take brunch seriously in Adelaide, and this means you can look forward to some beautiful coffees, toasted sandwiches, and other brunch goodies.
Adelaide is home to a wonderful smorgasbord of different cuisines, meaning that you'll be absolutely spoiled for choice. From swanky modern burger joints to classic pizza places and a variety of beautiful Asian restaurants — the only issue you may encounter is narrowing down where to eat with so many options. A visit to the famous Adelaide Central Markets is a must, and then explore the nearby alleyways for some awesome food at some of the new bars and restaurants that have popped up in the last few years. 
For many, the best thing about visiting Adelaide is the local wine scene — it's literally only 20 mins to the Adelaide Hills wineries, and McLaren Vale's amazing wineries are 35mins away. The Barossa isn't much further, and all of these regions  produce some of the finest wines in the world, and certainly some of the most celebrated wines from Australia as a whole. If you'd like to find out about local wine production in Adelaide, check out our super popular Bike and Wine Tour from Adelaide to McLaren Vale
Adelaide is Great for Art and Culture
South Australia, in general, has an excellent art and culture scene, and Adelaide is at the epicentre. There are various art galleries to visit in Adelaide, but if you're looking for the broadest possible range of art, check out the Art Gallery of South Australia, Tandanya National Aboriginal Cultural Institute, and the ultra-modern Samstag Museum. There are various other museums and galleries to explore, though, so if art is your thing, check out South Australia's Arts and Culture Resource. 
As impressive as the city's art galleries are, it's Adelaide's festivals that make the biggest impression on visitors and locals alike! Often referred to as the 'City of Festivals', Adelaide has more big events than any of the other big Australian cities. Our favourite time is "Mad March", which actually starts in Mid-February with the opening of the Adelaide Fringe, which brings the whole city out. This starts a month long onslaught of fun, with events and shows going on throughout the city, with the Adelaide Festival kicking in too. A festival is perhaps the best way to immerse yourself in the very best of Adelaide's art and culture scene, so try to visit during one of our many festivals. To be fair, we have so many festivals that it's hard to avoid them!
Adelaide is Close to the Flinders Ranges
Another reason to visit Adelaide over the other big Australian cities is that we're close to some of the most spectacular outback in the entire country. We know people come to see the city, but once you've had your fill of tasty brunches, festivals, and art galleries, you'll need to decompress in nature, and Adelaide's proximity to the Flinders Ranges makes it the best city to visit if you'd like to also get out into the wild. 
Flinders Ranges offer some of the best views in the country, and the area is generally regarded as the most accessible outback in Australia due to its proximity to Adelaide and the excellent road system. As we're obsessed with all-things-mountain bikes here at Escapegoat Adventures, we think the best way to explore Flinders Ranges is by bike, and it's why we created our Epic Flinders Ranges Mountain Biking Holiday. 
However you decided to explore Adelaide's substantial backyard (Flinders Ranges), make sure you check out Wilpena Pound, Wangara Lookout, Bunyeroo Gorge, and some of the other top spots mentioned on our recent blog about the Best Things to do in Flinders Ranges. 
That's all we have time for today, but there is, of course, much more about Adelaide that we haven't had time to discuss. Adelaide is, without doubt, one of the best cities to visit in Australia. But tastes and opinions vary, so you'll have to come here yourself to see what all the fuss is about. And if you have questions about any of our Adelaide mountain bike tours mentioned in this blog, please feel free to get in touch. What are you waiting for? Start planning your big Adelaide adventure!